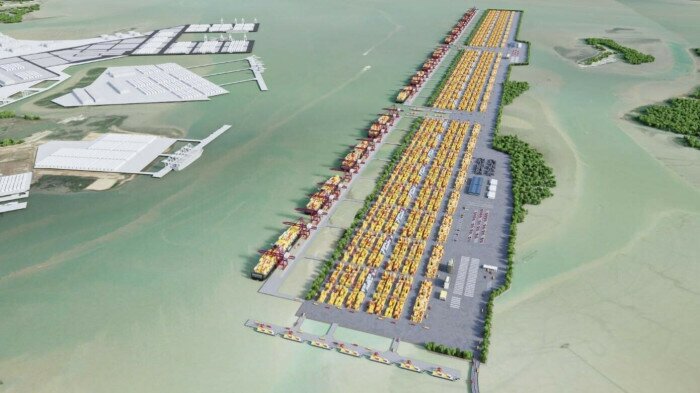 HCMC – HCMC is planning to develop the Can Gio International Transshipment Port between 2024 and 2026, with the commencement of service expected in 2027.
The HCMC People's Committee has presented this plan to the Standing Committee of the HCMC Party Committee for the development of the Can Gio International Transshipment Port project.
The proposed location for the port is Con Cho Islet at the mouth of the Cai Mep River. The main port will span seven kilometers, with an additional feeder port extending around two kilometers.
Covering around 571 hectares, the port will be able to accommodate container vessels of up to 250,000 tons, transshipment vessels ranging from 10,000 to 65,000 tons, and barges carrying up to 8,000 tons of cargo, facilitating trade routes connecting Asia, Europe, Africa, and the Americas.
The port's investment plan is divided into seven phases. The first two phases are set to be concluded by 2027, while the entire project is expected to be completed by 2045, requiring a total of US$5.45 billion.
HCMC aims to begin operating the first two phases before 2030. The current period, 2023-2024, is dedicated to investment preparation, followed by port construction from 2024 to 2026, with port operation commencing in 2027.
To cater to the port's operational requirements, the city has identified transportation infrastructure investments that will be made between now and 2030. These include the construction of the Can Gio Bridge, establishing a connecting road from the port location to Rung Sac road, and investing in other road infrastructure near Rung Sac.
The Can Gio International Transshipment Port project will be opened to private investors who are interested in the development of related infrastructure, facilities and logistics. Funding for the transportation and technical infrastructure connecting the port will be sourced from the State budget, public-private partnerships (PPP), and other financing channels.
The development of this international transshipment port in Can Gio from 2021 to 2030 is pivotal for bolstering the city's seaport system, enhancing the country's regional competitiveness, and stimulating growth in the maritime economy.
It is projected to attract significant investments from various businesses and create employment for 6,000 to 8,000 individuals, while contributing annual revenues of VND34 trillion to VND40 trillion to the State budget.
Preliminary forecasts indicate that the Can Gio International Transshipment Port will handle 4.8 million TEUs by 2030 and 16.7 million TEUs by 2047. Recently, MSC, one of the world's largest shipping lines, has shown keen interest in the Can Gio International Transshipment Port.
The Saigon Times