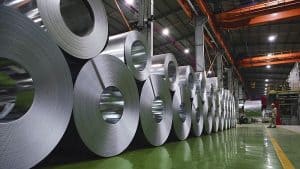 HCMC – The European Commission (EC) has announced an investigation into tax evasion, anti-dumping, and countervailing practices concerning cold rolled stainless steel products imported from Vietnam, Taiwan and Turkey, according to the Trade Remedies Authority of Vietnam.
The investigation targets cold rolled stainless steel originating from Indonesia, classified under HS codes.
This inquiry follows the EC's imposition of anti-dumping and countervailing measures on steel imports from Indonesia. The products are suspected of having been redirected from Indonesia to Vietnam, Taiwan, and Turkey before reaching the European Union (EU) market.
The investigation is set to conclude within nine months from the date of the notice. Relevant parties must notify the investigative authority within 15 days since the validity of the notice.
Relevant parties or their legal representatives are required to submit their responses to the EC's questionnaire, seek immunity, or provide necessary information within 37 days following the issuance of the EU's official gazettes.
Additionally, relevant parties have a 37-day window to request consultations with the EC. To engage in consultations about the investigation launch, parties must submit a request to the EC within 15 days from the notice's validity.
Manufacturers and exporters of cold rolled stainless steel are advised to carefully review the EU's regulations and procedures related to tax evasion investigations, especially strictly comply with the EC's guidance on time limits, formats, and content.
The EU is Vietnam's largest steel importer, receiving 260,700 tons of steel in July alone, up a staggering 307.15% compared to the same period last year.
In the first seven months of the year, steel exports to the EU, encompassing various types, surged by 68.84% compared to the previous year, amounting to 1.62 million tons. This generated US$1.27 billion in steel export revenue, rising 9.73% year-on-year.