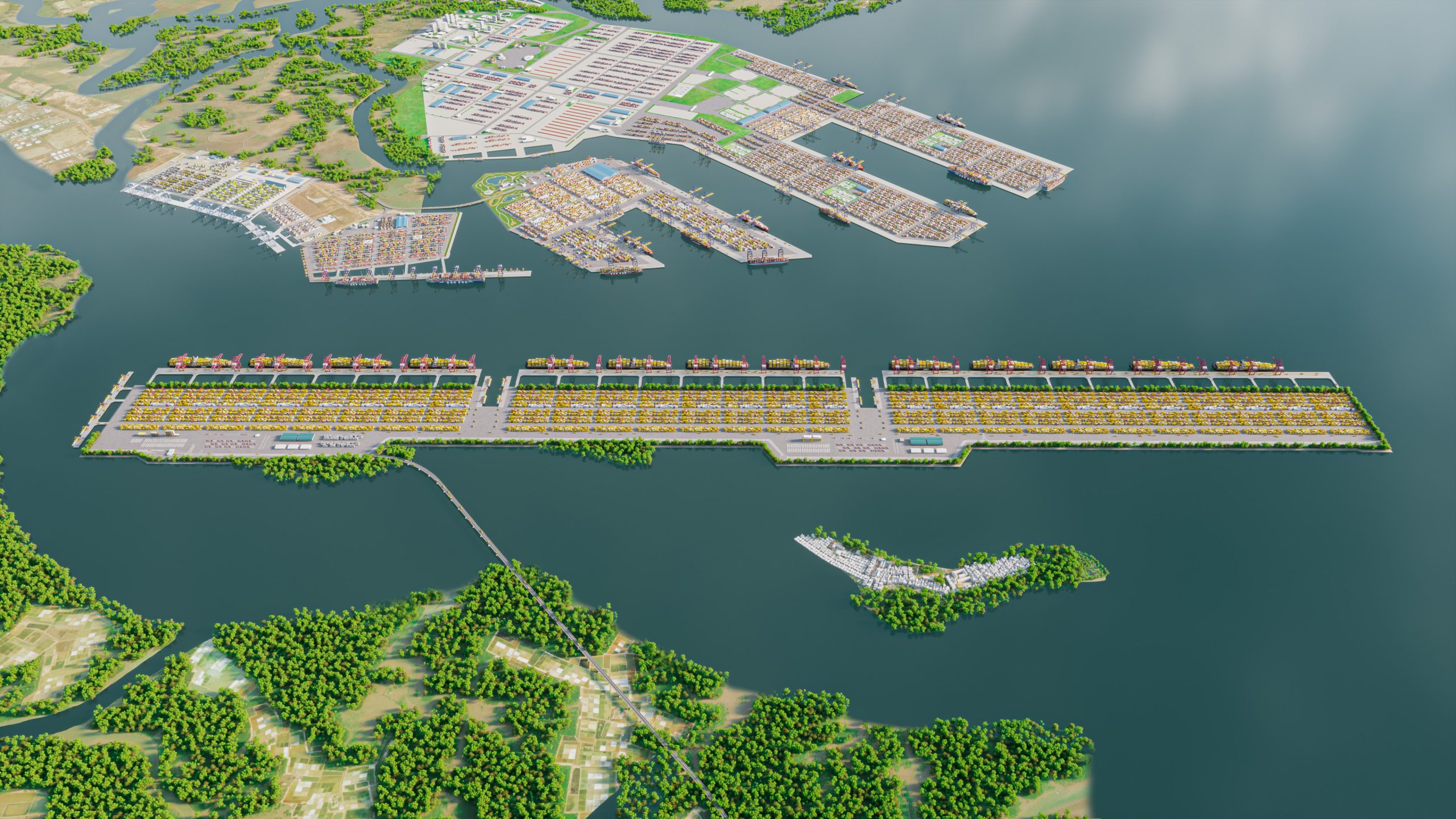 MSC Group has proposed investing nearly 6 billion USD in constructing a "Super Port" in Can Gio – Cai Mep, offering Ho Chi Minh City the opportunity to handle a large volume of cargo currently transshipped through Singapore.
Realizing the demand for developing international transshipment ports proposed by the government for over twenty years in the coastal port development plan, there have yet to be concrete plans implemented thus far, despite Vietnam's significant advantages, including its long coastline, numerous suitable bays for maritime transport, and strategic location along the leading international shipping route from East to West and vice.
Saigon Port has explored the demand for cargo, geographical location, and potential partners in the context of rapid global trade growth. Although Vietnam's seaports have experienced significant development in the past 20 years, international transshipment activities have yet to be realized. In the past, Vietnam had plans to construct 2 berths in Van Phong to attract shipping lines for global transshipment; however, these plans were unsuccessful as no shipping lines participated. Despite several large shipping lines operating in Vietnam, they have yet to set the construction of an international transshipment port in Vietnam.
The establishment of an international transshipment port requires certain necessary conditions. The essential requirements include geographical location, natural conditions, and national policies regarding port development. Furthermore, the sufficient condition, a prerequisite, is to have 1 – 2 leading global shipping lines agree to establish shipping routes with the transshipment location.
Connecting with MSC Shipping Line
As of November 2021, Saigon Port has established connections with MSC, one of the world's largest container shipping lines. MSC has a shipping capacity of over 23 million TEUs annually, accounting for 18% of global shipping capacity by operating service routes that connect to more than 500 ports worldwide.
In Vietnam, MSC provides services to the container port systems in Hai Phong, Da Nang, and Cai Mep – Thi Vai. MSC's fleet transports over 1 million TEUs of import-export cargo from Vietnam annually, connecting with significant markets such as the United States, Europe, China, Japan, Australia, and Southeast Asia. MSC is also a provider of port services through its subsidiary company – TiLH (Terminal International Limited Holdings), which manages 54 ports in 29 countries worldwide (of which 11 ones are fully owned by MSC), with the annual cargo throughput of these ports reaching 47 million TEUs. TiLH's port system is present in 7 out of the top 25 busiest ports in the world based on yearly cargo volume. Consequently, MSC has designated TiLH to collaborate with Saigon Port in researching and implementing the project "INTERNATIONAL TRANSIT PORT – SAIGON GATEWAY" located within the jurisdiction of Ho Chi Minh City, at the mouth of the Cai Mep River, along the deep-water port route in the Cai Mep – Thi Vai area.
Sufficient depth and width to receive large vessels entering and leaving the current water channels and in the future, highly compatible with Vietnam's goals for maritime economic development;
Far from the central conservation area of Can Gio;
No resident population or long-term exploitation of seafood in the area;
Convenient connectivity for both domestic and international inland waterways.
Regarding Vietnam's involvement in joint ventures
Vietnam Maritime Corporation (VIMC) is Vietnam's leading port operating company with 27 years of development. It owns 34 subsidiary companies, including an extensive network of seaports from North to South, with over 10.000m of berths. VIMC's ports are equipped with modern and synchronized facilities, ensuring customer service in line with international standards and practices. Simultaneously, the container port system is managed and operated through joint ventures between VIMC and its partners, which include major global shipping lines and port operators.
Saigon Port JSC (SGP), a subsidiary of VIMC with a history of over 160 years in port operation and related services since 1863, currently operates seaports in Ho Chi Minh City and Ba Ria – Vung Tau and jointly invests with VIMC in the operation of SSIT, CMIT, and SP-PSA International Ports in the Cai Mep – Thi Vai area. VIMC has approved the cooperation between Saigon Port and TiLH to carry out the project.
Even though the master plan for developing Vietnam's seaport system for 2021 – 2030 and vision to 2050 was approved in Decision No. 1579/QD-TTg on September 22, 2021, two months after, the project idea was formed. Recognizing the proposal's economic and political potential of VIMC/CSG and MSC, Prime Minister Pham Minh Chinh officially invited MSC as an investment partner in Vietnam, and during his official visit to Europe, he witnessed the signing ceremony of the Cooperation Agreement between VIMC/CSG and MSC on November 4, 2021.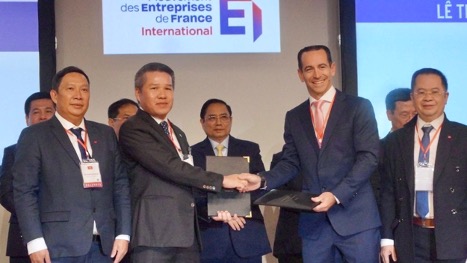 Saigon Port JSC (SGP) is a subsidiary of Vietnam Maritime Corporation (VIMC) with a history of over 160 years in operating seaports in Ho Chi Minh City and Ba Ria – Vung Tau, and related services since 1863. Together with VIMC, SGP invests in joint ventures to operate SSIT, CMIT, and SP-PSA in the Cai Mep – Thi Vai area. Recently, VIMC has approved the cooperation between Saigon Port and TiL to carry out a project.
Through extensive discussions and in-depth research opinions from VIMC/Saigon Port, MSC/TiLH, and consultations with experts, as well as strong support from Specialized Agencies of Ho Chi Minh City and Government Departments, primarily through official documents, the systematic and strategic "SAIGON GATEWAY INTERNATIONAL TRANS-SHIPPING PORT" project aims to become a reality soon.
Resolution No. 24-NQ/TW of the Politburo, Resolution No. 138/NQ-CP and No. 154/NQ-CP of the Government, Resolution No. 12-NQ/TU of the Ho Chi Minh City Party Committee on the development direction of Can Gio District specifically and the overall Southeast region in general, and the most recent one being Resolution No. 81/2023/QH15 of the National Assembly regarding the National Master Plan for 2021-2030 and vision to 2050, issued on January 9, 2023.
International Transshipment and Gateway Port
Saigon Port Jsc và Mediterranean Shipping Company (MSC)